Although some contribute $100 a month, anyone can support the program by contributing as little as $1 a month – a charge added to your monthly MPE bill. One-time and annual contributions are also accepted. To donate, simply select the contribution form button at the top of this page.
2022 Year in Review
Rebates - 29
Renewables supported - 249kW
Dollars Awarded - $29,000
Average Cost Per Watt (before rebates & tax credits) - $3.46
In 2022, Mountain Parks Electric's Clean Power Program awarded $29,000 in rebates for local renewable installations. CPP rebates are funded by voluntary contributions from more than 1,500 members. Now in its 24th year, the program's local footprint continues to grow. Over the past 12 years, the program has awarded $309,000 toward local renewable projects. The programs mission remains simple, yet relevant: to financially assist MPE members who install local, renewable resources. Grateful rebate recipients "pay it forward." They too contribute to the program so that rebate dollars are available for future renewable projects.
2022 Year-End Balance Sheet
| | |
| --- | --- |
| Beginning BALANCE | $27,489 |
| Total contributions | $43,695 |
| Total expenditures | $30,285 |
| Ending BALANCE | $40,899 |
Clean Power Program in the Community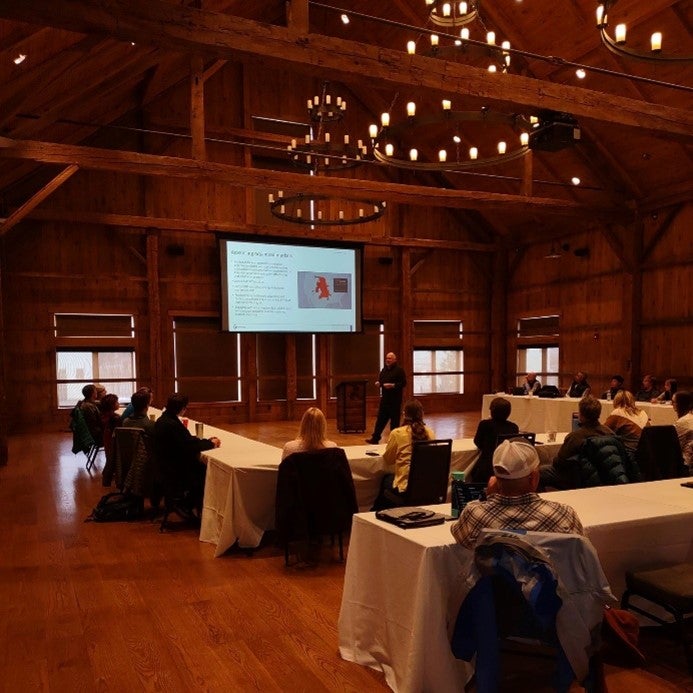 Last fall the CPP hosted a Sustainable Building in Mountain Communities event in Winter Park. There, local builders, municipal staff, elected officials, students and community members learned about and discussed clean energy technologies and opportunities in our communities - including cold climate heat pumps, EV-ready building and beneficial electrification. Presenters included industry experts from Mitsubishi HVAC, Holy Cross Energy, Tri-State Generation and Transmission Association, the Southwest Energy Efficiency Project and the Beneficial Electrification League. 
Green Power Program Advisory Committee                 
More Information
Chris Michalowski, Power Use Advisor
email: cmichalowski@mpei.com